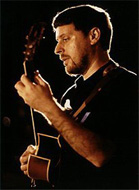 The most important thing in my life as an artist is to move people in some way. I want to touch their hearts so that they feel or experience something new and positive. It's not so important what their reaction is, as long as there is one, because I believe indifference, rather than hate, is the opposite of love.
Sometimes I simply play for myself, because the Music creates positive change, transforming a bad mood into good, or a busy, distracted mind into a quiet, reflective one. It's a great way to express emotion, and the primary vehicle for my creative energies. Music is a healing force in my life.
Goals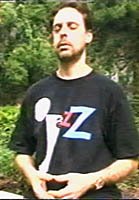 As for my own guitar playing, what's most important is to develop my own voice or "sound". That is what sets one apart from the rest, making one identifyable in a crowd of many. What's also important to me is that I play with feeling, and can convey well that emotion to the listener.
I believe all creative people can attempt to express only what they truly are at a given moment. That's why it's important for an artist to develop the relationship with their own inner Self, for as they evolve as a person, so shall their artistic expression evolve and grow. I think that as I mature and integrate my personality, my guitar playing will reflect that growth.
My talent in music is, like life itself, none other than a gift to be cultivated and shared. In this respect, making music is one way for me to be of service to others, "giving back" so to speak, the gifts I have received.
Baby's Beat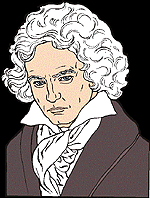 My earliest influence in music probably came when I was a baby. No matter what she was doing, my mother always had music playing at home (usually classical). I no doubt heard, and was affected by this music. My Dad remembers me always sitting directly in front of the stereo speakers beating rhythms on the ground or whatever I could find to hit. He says I was amazingly 'in time' with the music, even as a toddler. Perhaps this helps explain my developed sense of rhythm, phrasing and my desire to be a drummer. The beat is what first appealed to me in music. As a youngster I would spread my various schoolbooks out, the thickest one in the center as bass drum, the next thickest on the right as floor tom, and the thinnest on the left as a snare, with loose change scattered about on the far left of the book to create the hi-hat sound. Then with two pencils as drumsticks, I was ready to jam along with records. This replaced homework for me, until my Mom would come down to check on me, at which time I would cover the change and pretend to be studying!
Rock star-where are the groupies?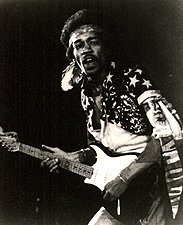 Rock music was the first music I bought records of. Led Zeppelin, Black Sabbath, Rolling Stones, Beatles, etc… At that time, I lived in a 'white, upper-middle class' neighborhood, and they didn't sing the blues in my church. But I did hear Hendrix, Cream, Johnny Winter, and Alvin Lee. I played in a 'garage band'(called that because that's about the only place we ever played) named 'Red Cooper', because the singer had red hair and sounded like the famous rock singer, Alice Cooper. When Alice Cooper played in Cincinnati, we all went to see the show and were very impressed. Later, when an older bass-playing friend encouraged me to broaden my perspective, I progressed to the more sophisticated, classical rock of Yes, King Crimson, & Genesis. The guitar players from those groups, Robert Fripp and Steve Howe, really intrigued me. During one summer vacation from high school, I visited and lived with my father in New York, and enrolled in the Guitar Workshop which was within walking distance of his apartment. I studied music and classical guitar, but my biggest discovery was the so-called jazz-fusion music. While visiting a New York City record shop, I bought two records by Chick Corea and John McLaughlin. They really knocked me out! I liked Chick's guitar player, Bill Connors, because he bent notes and screamed like a rocker, but the harmonies were new to my ears. But McLaughlin's 'Birds of Fire' is still my all time favorite in this idiom, with terrific writing & great energetic playing.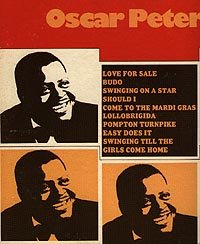 Music from the underground
But mainstream jazz was still largely unknown to me. My stepfather had one Oscar Peterson record with no names on it except Oscar's. I now know it was his trio with Herb Ellis and Ray Brown. I didn't know what the music was called and I had no idea where to buy records like that, though I loved the sound immediately . I thought maybe this was some kind of "underground" music! After I discovered jazz-fusion it wasn't long before I discovered and fell in love with mainstream jazz. Generally speaking, the older I became the further I went back to discover the music. For example, first I heard Hendrix, then McLaughlin, then Wes, then Charlie Christian. First Coltrane, then Parker, then Lester Young, then Hawk, etc… like that.
Turn out the lights and play!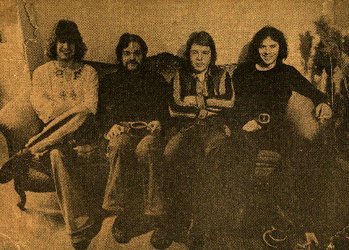 There was a significant period when I listened an awful lot to avant garde and free improvisation. While I was at Berklee College of Music, I heard groups like the Art Ensemble of Chicago, Sam Rivers and Dave Holland, and others. I was also introduced to the so-called ECM musicians like Ralph Towner, Terje Rypdol, Gary Burton, DeJonette, etc… While at Berklee I used to 'jam' in the practice rooms with the lights completely out, and we would improvise freely. I had private lessons with guitarist, John Damion, and his influence was towards the esoteric. Pat Metheny had just released 'Bright Size Life' with Jaco Pastorius, which caused quite a stir, but John Abercrombie was probably my favorite guitarist during my Berklee years.
Put it right the —- in there!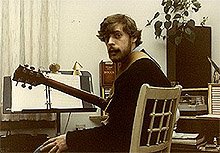 After I left Berklee, I began private studies with Dave Frank, a Lennie Tristano clone in New York, and that's what influenced me to listen to more traditional beboppers. In fact, my teacher gave me a list and instructed me not to ever listen to anyone who wasn't on the list! The people I could listen to, and who's solo's I was to sing along with, included Charlie Parker, Fats Navarro, Bud Powell, Tristano (of course), Lester Young, Wes Montgomery, and very few others. Singing along with Montgomery's solo's helped make him my all time biggest influence as far as guitar style is concerned. Studying with Dave was very influential. I really began working on improvising lines, and alot on my 'swing' feel when playing the lines. Dave used to tell me what Lennie told him, screaming and banging his fist into the wall, '…put it right the fuck in there!!!…' Dave was a pianist and I played guitar, but he would listen to me play my lessons and tell me, in no uncertain terms, when I was swinging and when I wasn't. The swing feel of the eighth notes was most important. I must admit, as much as I learned to love Prez, Bird, and Christian while studying with Dave, I never did strictly follow his 'opinionated list', and used to listen to lots of the John Coltrane Quartet, including the 'freer' things.
The long road back, classical tones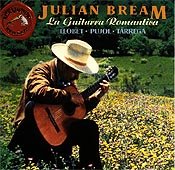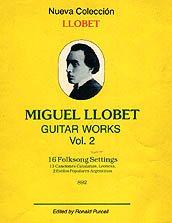 After my long hiatus from the guitar, it wasn't easy or quick to re-train my muscles. The carpel tunnel syndrome I suffered from was a road block to my progress, but it did indirectly, re-introduce me to classical music. I was referred to a lute & guitar teacher named Pat O'brien, who had gained some reputation for helping carpel tunnel victims by non-medical means. I went to see him strictly for my physical problems, yet as a result of those few sessions, I became interested once again in classical guitar. On his advice I purchased a book of Tarrega arrangements and began, very slowly, to learn to play them. I loved the Spanish romantic guitar and eventually I learned over two hours worth of solo material. I thought some of the harmony of that music was 'jazzy', and the guitar music of the late 1800's and early 1900's was very nicely voice led. I particularly liked the Llobet folksongs, Tarrega's arrangements, and Alexander Tansman. The other thing I appreciated about classical music, and particularly working with the guitar music, was the importance of getting each individual note to sing. Dynamics, tone, and timbre seem even more vital when you have to try and give your own unique interpretation to notes which never change. When you don't have to worry about improvising, maybe there's an opportunity to focus more on the subtleties. Learning classical guitar was another reason I played with only my fingers, even when I switched back to the jazz style.
You play what you practice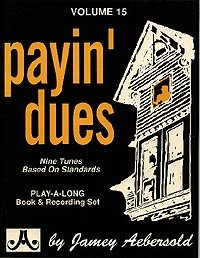 When I resumed my jazz practicing I vowed that if I were going to play at all, I would learn to play melodies with feeling and emotion. Playing with the thumb instead of a pick, gave me a fatter, warmer, and more percussive sound, but it also slowed me down, forcing me to choose my notes more carefully and focus on melody. I avoided practicing technical exercises and scales completely. My philosophy was that just as 'you are what you eat', 'you play what you practice '. So I 'practiced playing' by using the Jamey Aebersold 'music minus one' tapes. At this point I didn't have the confidence to jam with professionals, and when I lived in Hong Kong, there were not a lot of musicians there to jam with, so his wonderful tapes allowed me the opportunity to play along with professionals, in the privacy of my own home, slowly building up confidence and 'chops'. But it took years to gain fluidity of technique with the thumb, not to mention the confidence to play again. That was to happen later, in Asia.
School of life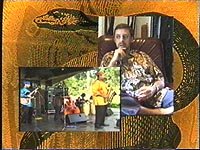 The experience of playing six nights a week in Asia has, practically speaking, been the biggest influence on my guitar playing. Working that regularly teaches you versatility, discipline, and strength.
But one can't underestimate the influences of life itself on my music, even when I wasn't actually playing. For example, I suspect my childhood in a dysfunctional family had much to do with my love for music because music was an escape from hard realities.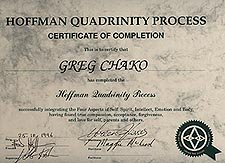 The periods in my life when I did not play, or when I faced personal crisis, also played a role in my musical development. For example: A) working as a salesman in New York helped me with the business side of music and the art of negotiation. It also helped teach me how to get along with different kinds of people. B) Training as a chef taught me what it was like to earn a regular paycheck! And to be a good cook, you must know about preparation, presentation, and balance, all elements pertinent to being a musician. The experience of working in hotels and restaurants didn't hurt either, since that's where I tend to play now, and I feel I better understand the needs of those I work for. C) The personal healing work and soul searching I did after my divorce helped my playing too, especially a marvelous self-empowerment course I took called the Hoffman Process. After completing 'The Process', I was better in touch with my emotions, more self-confident and easy-going, all good things for a performer.
Oh please, not another guitar player!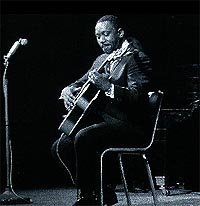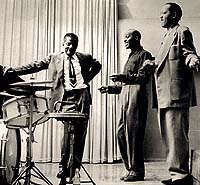 Once jazz replaced rock music for me, I never listened as much to guitar players as I did to sax and piano players. I wanted to play the lines sax players did, and I didn't like the 'sound' of most guitarists'. Even to this day there are few guitar players that hold my attention as much as Wes Montgomery and Hendrix, though I love Grant Green's style too. It wasn't until rather recently, after recording my first CD, that I went out and bought a bunch of guitar records, in order to compare the style, sound, and recording quality (I daresay my own records stand up very well)! The Spanish romantic classical guitar style is very beautiful and is a class of it's own. Now I'm playing so much that I don't have the time to listen the way I used to, but my recorded music collection is huge. For those interested in learning who don't share my good fortune of playing every night, I strongly recommend listening to as much good music as possible. I've written up an extensive list of my favorites here if you want some ideas.
Rhythm is supreme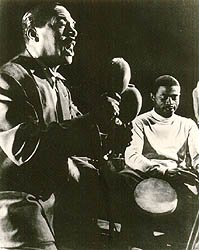 If I were asked, …'what is the most important element of music?', I would answer, …'rhythm'. For actually, you cannot have melody without rhythm. In order of importance, first comes the rhythm or phrasing, second comes melody, third the harmony.
I believe there are some artist's like Billie Holiday and Frank Sinatra, who don't have the most perfect singing voices, yet are so popular. I believe the key to their popularity is their phrasing, or, the way Miles put it, the space between the notes. That is what defines rhythm, the space between the notes. Sometimes the most important thing is not what note to sing, but when to sing it. Have you ever heard someone with a trained voice that cannot sing in time, or who's phrasing is stilted? I have. No matter how good the quality of their voice is, they won't be nice to listen to if they can't phrase well.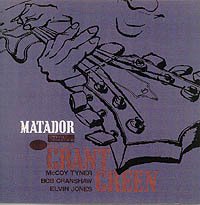 Good phrasing is an important thing for a musician to be aware of, yet it's one of the hardest things to teach. In that way it's similar to the concept of swing. Swing's a bit hard to describe but easy to feel. Good phrasing is a characteristic which has nothing to do with speed or technique. Take for example a comparison of McCoy Tyner and Grant Green. One plays many notes and the other tends to play few notes, yet both have great phrasing and feeling (check out Green's album ' Matador' with Tyner on piano).
Technique and speed are easy to explain and practice, it's simply an matter of repetition.
It's more than the notes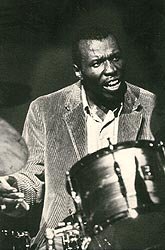 I once heard a drummer complain about Elvin Jones being sloppy. I think that's a pointless comment. Even if he were sloppy, who cares if he can swing and play like that? Drum machines are not sloppy at all but I won't enjoy listening to one for long! I have an album featuring Jim Hall and Art Farmer playing with Steve Gadd on drums. While Steve doesn't play any 'mistakes', his precise style doesn't swing enough to adequately accompany Hall and Farmer. John Williams plays amazingly perfect guitar, but when it comes to the very romantic Spanish styles, I prefer someone who interprets the music more slowly, rubato, and less machine like. Similarly there are a lot of guitar players who play rock and blues very well but I don't care for their 'straight ahead' jazz playing, even though they know well what scales and notes to play. To me for example, Mike Stern sounds better when he's playing rock or fusion than when he plays a standard like Stella by Starlight. Hendrix played out of tune and sloppy at times, but I still love the expressiveness of his playing. Who else could get the guitar to speak like that? Grant Green plays very few notes and simple blues motifs, but I love his feel and innate sense of rhythm.
Music is not an exact science (even science is not an exact science!), and it's better to play ' feelingly' than 'perfectly'.
Art or craft?
I feel there is a subtle distinction between an artist and a craftsman. A craftsman can be impressive, dazzling one with technique honed through many hours of practice. They can copy an artist's style so well that it's difficult to tell the difference between the original artist and the one who copies. One can easily respect the craftsman for their patience and hard, hard work. Most artist's, indeed, would not choose to do what the craftsman does. But a craftsman cannot do what the creative artist does. An artist blazes their own path, usually in the face of opposition. Take Miles Davis early in his career, surrounded by Bird, Diz, and Fats, all players who could play higher and faster than him. But instead of trying to copy them he developed his own unique style. And when Coltrane came on the scene many criticized him for his 'raw', grating sound. Once the reigning sax player of the day heard Charlie Parker play tenor, and was quoted as saying a tenor should not be played that fast. Their detractors were many! But eventually all these musicians forged new ground and became famous for the very thing they were criticized for. That's because true artist's are always 'ahead of their time', and it can take years for the audience at large to recognize their genius. In fact, sometimes the artist is dead before they get the recognition they deserve. How many of our great classical composers died penniless and un-appreciated because they had forged new ground?
To be a craftsman, one must copy. To be an artist, one must create.
Open your ears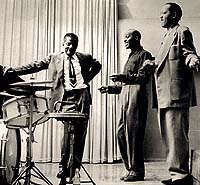 When I was into rock music like Black Sabbath and Deep Purple, I was given some different records to listen to, like Genesis and Yes. The new music didn't appeal to me at first. It took some listening time before I liked the new records. The first time I listened to Brahms Violin Concerto, I couldn't get into it, but I kept listening and now it's one of my favorites. This has helped teach me an important lesson. If you patiently listen to any good music, putting your judgement aside, you will learn to appreciate it. Humans are creatures of habit. What we think is good or bad depends on what we're used to. Our ears are bombarded daily by computer generated 'muzak', designed to appeal to the lowest common denominator. Giving a Bela Bartok record to the average person is like giving a great literary novel to someone who's spent their whole life reading trashy romance written by formula to sell, sell, sell. They won't have the patience for anything really good, because they're not used to it. But that problem can be overcome through exposure. In order to really appreciate good music you have to listen often, and patiently.
In and out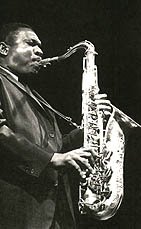 I personally feel that one can play 'free' only after they can play 'inside'. I believe it's vital to understand and assimilate what came before us. So, when it comes to avant-garde styles, I tend to prefer those who arrived at that style through years of development, like Trane and Miles, as opposed to those who pick up an instrument and play whatever they feel without studying some of what came before them. Sometimes the evolution to 'freer' forms of improvisation is quite natural. This is because as we become exposed to more music our ears become more 'open'. Our definition of dissonance broadens. What was dissonant years ago is now melodious, what seemed a-rhythmic then, now makes sense. If you love music, the music will draw you in and you will find yourself being challenged. You will seek new sounds and new expressions. What is 'in' or 'out' is a matter of perception and training (though we are well reminded that …'It don't mean a thing if it ain't got that swing'…)!
Can't please everybody all the time … change, change, change…
One quality of a great artist is that they keep changing. Over the course of their life and art, they have different periods, and they are are forever moving ahead and trying new things. There are many examples of this in the painters like Picasso, who actually had periods named after him. I visited the Salvador Dali museum in Florida and discovered that he began by copying the former masters like Van Gogh, and did exquisite miniatures in realistic detail before he advanced to the more unconventional surrealism which made him a household name. Similarly, players like Miles and Coltrane were always creating new forms, seeking new ways to express themselves, though they also had strong foundation in the the rudiments. Like the painter Dali, they began by copying the earlier masters, then went ahead and blazed their own trail. When Miles went 'electric', he left many of his fans behind, and the same with Coltrane when he went 'free'. True artists' march to the beat of a different drummer, and one cannot hold them back or limit them by imposing one's own judgement. The fact is that if they are great, they will keep moving forward despite what others think, and it will take time for those 'left behind' so to speak, to catch up and recognize their genius.
Much to the frustration of some artists', marketing executives in record companies will try and neatly categorized music styles to fit into their marketing molds. By naming something, you limit it, and true Art is limitless.
The real pro's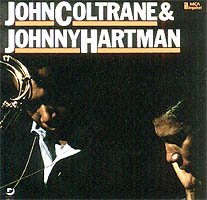 It's interesting to hear McCoy Tyner's playing on the album the Coltrane Quartet did with singer Johnny Hartman, and compare it with the playing from the Live at the Village Vanguard sessions done about the same time. Can you recognize it's the same piano player? Make the same comparison with Elvin Jonesa playing on those two sessions. Some people think of him as always playing loudly, but can you hear what a great player he is with brushes only? That's the mark of a great artist, the ability to adapt appropriately to different musical environments, while maintaining integrity and identity. While usually we all have our speciality, sometimes there are players like McCoy and Elvin who can do everything well!
Sitting In, the emotional element
I believe a person dedicated to music loves to play, no matter what. I believe in jamming, rehearsing, sitting in, anything as long as it's playing. I've moved around a lot in my life. Each time I move to a new place I would try and find out where people were playing jazz. I'd go there, listen, and try to sit in with the band if they would let me. Sometimes I'd end up going to sit in with the same band almost every night, playing for free. Here in Singapore I was out of work for 6 months, but I played with two local bands for free just to be able to play some in public. I encourage sitting in on my own gig now. In the old days this was how younger players learned from the masters, on the bandstand. Now there are plenty of other educational programs available, but nothing can replace going onstage to sit in with strangers, playing in front of strangers.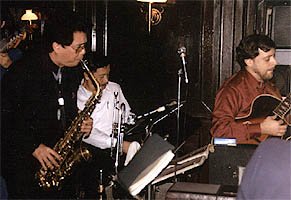 People forget that there's another element to performing which traditional practicing doesn't address. That's the human emotional element, getting nervous, getting jealous, getting distracted. You can practice it perfectly at home, but onstage become nervous or distracted and forget everything. And of course as much as I support the use of play along tapes, playing with real people is better. Each band and rhythm section will treat the song and harmony differently, which means the person sitting in has to learn to hear and adjust to what the band is doing if he wants to fit in and sound good. Difficult to practice that at home.
Since I've been in Asia I discovered that people here don't sit in so readily even if they have the opportunity. Generally speaking making money seems to be the most important thing, so some don't like to play unless they're paid. Then shyness is another reason people don't sit in so readily here. Before I had the opportunity to work this regularly, I really missed the jam sessions I used to have in the States. Players would think nothing of driving for an hour just to get together to play informally, even though there was no specific gig to rehearse for. The thing is, you improve at what you do the most of. If you want to be a better player, play as much as possible, even if it's for free.
Personal preferences
Usually, even though they may be versatile, there is one particular style most players really excel at. So far for me, that style is mainstream jazz, improvising lines on standard changes at a medium swing tempo, in a trio setting. While my playing direction may change in the future, I'll always be comfortable in that idiom.
Someone asked me recently why didn't I play pop-rock even though I like some of it and could make more money. The reason is, that I'd be bored with the music. It was the enhanced harmonic possibilities of jazz which first attracted me. Jazz is more challenging, and rewarding for my mind, if not my pocketbook.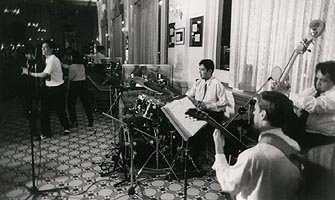 I hope my music makes you think, draws you in, even challenging you occasionally. But I do appreciate music which induces a relaxed mood in the listener, and this has been said of my music. I hope there is a subtleness to my playing which gives the listener the option of listening closely or just relaxing, allowing the music to help create or change a mood. This kind of playing is different from the kind of music which hits you over the head or is 'in your face' so to speak. Perhaps it can be compared to a conversation. If someone is speaking slowly and calmly they stand a better chance of being listened to than if they are preaching or screaming in order to prove their point.
I believe if one does listen closely to my music, they will find it has a lot of depth and sophistication to offer.
My most important view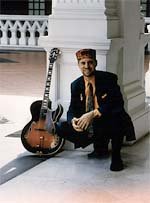 In the end, no matter what your opinions and preferences are, there's room for everybody! So it's best to put judgement aside and appreciate the diversity and abundance of this world. Have fun with music! It needn't be so serious.
If you are a parent and your child wants to play an instrument, please don't give him the idea that he must be great or it's not worth it. Try not to discourage or set unreasonable expectations. If he is meant to play it will come naturally, and if not, let him at least have fun with music so he learns to appreciate it.
If you are a corporate executive and want to play guitar for fun, don't let the fact that you'll never be a professional stop you from trying. (I've met plenty of those!) The fact is, music is for everybody and anyone can do it! It's not true that some people have it and some don't. We all have It, but of course we're not all meant to be professionals. That means, for some of us, it's quite all right to play or sing solely for fun, without judgement.
Music, like all of God's gifts, is to be enjoyed and shared by all. It is not separate from life, it is life.
Some of my all time favorite jazz albums are:
"The Stylings of Silver" – Horace Silver
"Live at Birdland, 1963" – Art Blakey
"Rip, Rig, and Panic" – Rhassan Roland Kirk
"Out of this World" – Pepper Adams/Donald Byrd Quintet, featuring Herbie Hancock
"The Incredible Jazz Guitar of Wes Montgomery" – Wes
"In and Out" – Joe Henderson & "The Real McCoy" – McCoy Tyner (These two belong together as one, same period, personal, and style)
"1st Bassman" – Paul Chambers (featuring tunes by Yuseff Lateef)
"Luminescence" – Barry Harris (w/Pepper Adams and Slide Hampton arrangements)
"Nancy Wilson and Cannonball Adderly"
"Hub Tones" – Freddie Hubbard (w/Herbie Hancock)
Equally great:
Dinah Washington, Live in 1963
"Jim Hall Live" (seems to be out of print, on Horizon Label, a trio w/Don Thompson on bass)
"Thrust" – Herbie Hancock
"Gnu High" – Kenny Wheeler, featuring Keith Jarrett
"Pure Desmond" – Paul Desmond, featuring the great Canadian guitarist, Ed Bickert
"Mountain in the Clouds" – Miroslav Vitous, (also released as Infinate Search)
"All the Way" – Little Jimmy Scott (alot of people may not be aware of this great singer who released few recordings)
"Blowin' the Blues Away" and "Finger Poppin'" – Horace Silver Quintet
"Four and More", "Live at the Blackhawk", "My Funny Valentine", and "Porgy and Bess", – by Miles Davis
"Transition", "Live at the Village Vanguard", "Afro-Blue", "w/Johnny Hartman"- by John Coltrane Quartet
"Roll Call" – Hank Mobley, w/Blakey and Hubbard
"The Big Beat" – Art Blakey
"Unity" – Larry Young
"Cannonball Adderly & the Poll Winners", featuring Wes Montgomery
Little known records which are terrific:
Jean Luc Ponty's "Sunday Walk",
Sam Jones "The Soul Society"
and "The Chant" (These are ten piece bands)
Philly Jo Jones big band records,
Blue Mitchell Sextet,
And the list goes on….. and on…. and on…. my apologies to all the great records and artists which I omitted! Isn't it an abundant world?!
My favorite jazz groups are:
Art Blakey and the Jazz Messengers,
Horace Silver's group,
John Coltrane Quartet,
and the groups of Miles Davis.
My favorite jazz composers are:
Duke Ellington,
Alec Wilder,
Billy Strayhorn,
John Coltrane,
Wes Montgomery,
Tadd Dameron,
Bennie Golson,
Charles Mingus,
Thelonius Monk,
Cedar Walton,
Wayne Shorter
Some of my favorite soloists are:
Sax:
Pepper Adams
John Coltrane
Lester Young
Bird
Wayne Shorter
Joe Henderson
Hank Mobley
Rahsaan Roland Kirk
Pharoah Sanders
Booker Ervin
Dexter Gordon
Sonny Rollins
Slide Hampton (bone)
Trumpet:
Lee Morgan
Freddie Hubbard
Fats Navarro
Booker Little
Miles
Piano:
Herbie Hancock
Barry Harris
McCoy Tyner
Bill Evans
Phineas Newborn
Jimmy Smith (organ)
Bud Powell
H. Silver
Wynton Kelley
Jaki Byard
Cedar Walton
 Joanne Brackeen
Bass:
Paul Chambers
Sam Jones
Ron Carter
Drums:
Roy Haynes
Elvin Jones
Art Blakey
Jack DeJonette
Guitar:
Grant Green
Wes Montomery
 Jim Hall
Singers:
Nancy Wilson
Dinah Washington
Jimmy Scott
Johnny Hartman
Sarah Vaughan
Betty Carter
Billie Holliday
Ray Charles
So called young lions:
Mulgrew Miller
Terence Blanchard
Steve Turre
Christian McBride
etc…