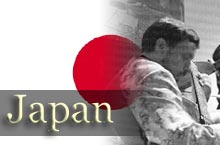 When SARS ended our successful run of live jazz in Shanghai, I had to consider what's next for Greg Chako, back to Singapore, to America, or to Japan, the country of my beloved wifes' birth. We decided on Japan because it was the easiest and most practical to accomplish, and also because I had heard that jazz is popular in Japan. However, shortly upon our arrival to Japan, my 37 yr. old wife was diagnosed with late stage, deadly cancer. I had no job, no drivers' license, no Japanese language skills, no family or friends, except for my ailing wife. This terrible life changing situation consumed all my time and efforts, and I could not be the 'Jazz Prophet' and go-getter I used to be. All my focus was on my wife and our continued survival under the most dire circumstances. When my wife died I wrote my observations of her traditional Buddhist funeral ceremony, included on this website: English / Japanese
Despite the personal problems described above, I have been able to play a little in Japan, and it's mostly thanks to the wonderful locally based players (and agents) who have helped to get my name around when I was unable to do so myself. It is by their thoughts that I am working at all! But now that I am on my own, I look forward to more music to come!
In 2005/2006 my music career began to get back on track. I began playing more, and I released 2 new CDs, my 6th to date, and my first official release in Japan, called "Where We Find Ourselves", and my 7th to date, called "Two`s Company and Three`s a Crowd". The background story of "Where We Find Ourselves" can be found here: (link) Currently, I have two steady weekly gigs, every Tuesday night with my trio at The Starboard Lounge of the Intercontinental Hotel in Yokohama, and every Friday for more than a year now at The Imperial Hotels` Aqua Lounge in Tokyo. In addition, I play once every two months at the live house, Bar Bar Bar in Kannai, and am increasingly active on the local music scene in live houses (The Cotton Club, Motion Blue, B-Flat and others), and for corporate and private events.
Time and Style, Jazznin Magazine and Rentrack Japan (Jazz Party)
"The focus also turned toward live jazz, with two great sets as the the trio romped through standards with some particularly fine solos from all three. Though Chako has only recently arrived in Tokyo, he blended in superbly with now long-time Tokyo stalwarts, Mark Tourian and Cecil Monroe. His guitar was crisp and clean, with a deep reserve of harmonies and soloing ideas."
Press Clippings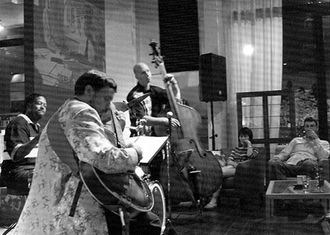 Accomplishments in Japan
Companies
Goldman Sachs
Audi
Papio Press Party (Asahi Breweries)
Adidas
Canadian Chamber of Commerce in Japan
Toyota
Permira
Starbucks
Mitsukoshi
Tiffany
MPEG LA (UK) LTD
Aramis
Takashamiya
Todd`s Shoes
Cartier
Louis Vuitton
Cooper Mini
British Embassy Residence
MacKenzie Consulting
Merrill Lynch
Tokyo Mitsubishi Bank
Chanel
Paul Stuart
Mont Blanc
City Club of Tokyo
MicroSoft @ The Grand Hyatt
Wallenius Wilhelmsen Logistics @ Tokyo Kaikan, Marunouchi
Hotels
4-Seasons Mejiro
Tokyo Dome Hotel
Park Hyatt Hotel
Intercontinental Tokyo Bay
Tokyo Prince Hotel
Imperial Hotel
Landmark Tower Royal Park Hotel
Pan Pacific
Grand Hyatt Roppongi Hills
Yokohama Intercontinental Hotel
The Conrad
The Mandarin Oriental
Akasaka Hotel New-Otani
Scapes The Suite - Hayama
ANA-Crowne Plaza Toyama;
ANA-Crowne Plaza Narita
Keio Plaza Hotel-Shinjuku
Jazz Clubs
B-flat
Byrdland
Pit Inn
Jazz Spot "J"
Sometime
Airegin
Bar Bar Bar
Motion Blue
JZ Brat
Daphne
The Cotton Club
Body and Soul
Other
Spago (Roppongi Restaurant)
Hanezawa Garden (Hiroo Restaurant)
Tatou Tokyo (Nightclub/Restaurant)
Nobu Tokyo (aoyama restaurant)
Nakano Sun Plaza (Concert Hall)
Embassy of Canada
Zushi Marina Riviera (wedding venue)
St. Mary's International School (jazz clinic)
Cyclo (Azabu Restaurant)
Casita (Roppongi Restaurant)
Fuji Raceway (official launch of Toyota Lexus)
1st Hama Jazz Festival
Joel Robuchon (Ebisu French restaurant)
XEX (Daikanyama restaurant/bar)
XEX Atago Green Hills
Ottimo (Hayama restaurant)
Il Mulino (Italian restaurant in Roppongi Hills)
Tsunamachi Mitsui Club
Garb Pintino (restaurant in front of Tokyo Tower)
Manoir d`Inno
Happo-en, Kayumanis
Le Petit Tonneau
Le Vieux
Paris
Garden Restaurant
Tokugawaen-Nagoya
Chez Matsuo Aoyama Salon
Shinjuku Samrat
La Tour d`Argent - Daikanyama
Felicita - Aoyama
TY Harbor Brewery - Shinagawa
Ogasawara Hakushaku Tei - Shinjuku
Rotary Club
Berlitz Language School Employee Party
And performed with
Bass:
Mark Tourian, Brent Nussey, Shin Kamimura, Koji Yamashita, Chris Silverstein, Ichi Takada, Fuji Saki Yoiichi, Eiji Aizawa, Yasushi Ichihara, Glynis Martin, Kiichiro Komobuchi, Michio Takanashi, Osamu Mori, Stan Gilbert, Hasagawa Yasuhiro, Masaru Tamaki, Coleman Bayliss, Jeff Curry, Greg Lee, Tatsumi, Derek Short, Peter Scherr, Tetsuya Hiyakawa, Ushio Ito
Sax/flute:
Andy Bevan, Steve Sacks, Andy Wulf, James Mahone, Masanori Okazaki, Koran Daniels, Greg Lyons, Atsushi Tuzurano
Trumpet/Flugelhorn:
Rick Overton, Rick Vogel, Neil Stalnaker, Mike Price, Tetsumi Tetsuya
Drums/Percussion:
Cecil Monroe, Tommy Campbell, Dennis Bradford, Robert Belgrade, Mark DeRose, Kazumi Ikenaga, Forris Fulford, Scott Latham, Nobuaki Fujii, Brad Johnston, Mike Resnikoff, Toru Takahashi, Bison Katayama, Kei Masuda, Alex D`Alessandro, Paulo Vargas, Taro Koyama, Akira Horikoshi
Piano/Organ:
Tom Pierson, David Silverman, Mariko Saito, Hiroshi Tanaka, Mami, Homei Matsumoto, Satoshi Takahashi, Yuri Dazai, Hakuwei Kim, Al DiMarco, Bruce Stark, Peter St. Ledger, Jonathon Katz, Moreno Bussoletti, Keisaku Takahashi, Daisuke Kawai, Junko Moriya, Hiroko Takada, Shirota Yuko, Sachiko Yasui, Sean Tait, Eisuke Kato, Shigeo Fukuda
Trombone:
Toshinobu Inasaki, Fred Simmons, Pat Hallaran
Violin:
Edgar Kautzner
Big Bands:
The Famous All-Japanese swing jazz group called "The Swing Crew", Bay Area Ensemble (Octet)
Vocalists:
Vyrna, Joni Davis, Glynis Martin, Pamela McCarthy, Noli Bravo, Ildii Zolst, Kaleb James, Andrea Hopkins, Jim Robertson, Rie Furuse, Charito, William Silk, Shinobu Amayake