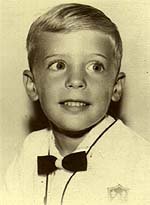 I was born in Cincinnati, Ohio, in 1958, a Gemini and only child. My father was Greek and my mother American. My parents divorced when I was young, and I was raised by my mother until she remarried. I grew up too fast (my mom's "young man"), and I was intelligent, independent and sometimes rebellious. My first music lessons were on accordion when I was 9 yrs. old. Because the teacher said I had some talent for music, it was decided some music lessons should continue. I was very keen to play drums but my stepfather said no to that because he didn't want to hear me practicing in the house. My mother preferred piano, but in my ignorant youth, I thought piano was for sissy's. Guitar as the instrument of choice was a compromise, though once I heard Hendrix, I wasn't sorry for the choice. I began guitar lessons in 1968 at Hoffman Music Studios in Hamilton, Ohio, under Helen Hoffman who took me through the MelBay guitar method books. Soon she said she had taught me everything she could. During that time, in 1969, I won 2nd place in the American Guild of Music contest involving about 100 guitar contestants.
Get a "real" job!, or, what is it you really do for a living?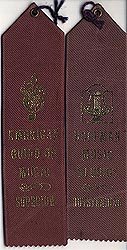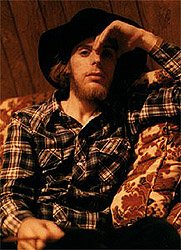 It was always assumed by my parents that guitar would merely be a hobby, nothing more. My mom thought I couldn't earn a living from music, and that was her main concern. My stepfather didn't believe I had any talent whatsoever in music, despite what the teachers told him. He wanted me to be an engineer. But when I finished high school I refused to go to collage to study anything but music. My stepfather refused to contribute any money for my collage education. Luckily my mother helped financially, plus I earned a partial scholarship to attend Berklee College of Music in 1976 as a performance major, against the wishes of my parents. In fact, I was one of only two from my graduating class in high school to study music. I felt my desire to play guitar was somewhat abnormal.
The lost years, party-time in the Big Apple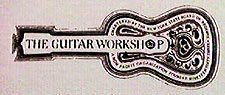 I completed 3 yrs. at Berklee, but I coasted through much of my class work, favoring solitary guitar practice and 'jamming' with others. I still managed to make the dean's list. But it was all study, and money was very tight. Sometimes all I would eat for days was peanut butter sandwiches. On a long Xmas break from school I stayed in Roslyn, New York with my father, and got what was supposed to have been a month long job in a restaurant. I was due back in school after the holiday break. There was quite a wild nightlife where I worked. I was away from my family, earning steady money for the first time, and it was so exciting to be 'free' in the 'Big Apple', the ultimate party town. Here my stepfather's words of warning came true. He had said that as soon as I got a job earning a salary I wouldn't want to go to school again. Sure enough, I stayed on in New York and dropped out of collage. Greg Chako working at a Guitar WorkshopI worked in kitchens and partied it up in the bars and beaches of Long Island, NY. I traveled to Greece once and camped on the beach in Corfu for 4 or 5 months, occasionally playing guitar for fun. Upon my return to NY, I gained my first experience in Arts Administration working briefly for the Guitar Workshop school in Roslyn, NY, though when they quickly closed, I resumed cooking in order to make a living.
Cooking with Jazz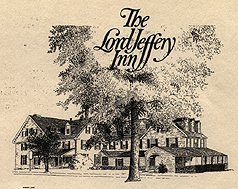 By this time I had gained experience in kitchens andit was apparent I had the talent to be a creative and competent chef. I was groomed by two different executive chefs for a cooking career, at one point being offered a partial scholarship to the famed Culinary Institute of New York. A career as a chef was possible, and I liked working with food (still enjoy eating it), but I didn't like the long hours and that particular kitchen smell that permeates all your clothes!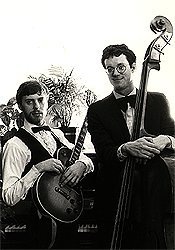 I married in 1982 and moved to Amherst, Massachusetts where my wife was going to school. I became Assistant Chef at the Lord Jeffrey Inn, New England's oldest and most prestigious Country Inn. I was practicing guitar too, and teamed up with a bassist in Amherst who also had a 'day job'. So far, my music was not earning me any money. My reputation as a chef there was good, so I set up a meeting with the General Manager of the Lord Jeffrey Inn. I convinced him to let my bassist and I play jazz in their lounge on my only two nights off, telling him I was a better guitar player than a chef (I lied!). He agreed, so I cooked in the kitchen 5 nights and played guitar in the lounge for 2, a full 7 nights a week work. Eventually I asked the executive chef to let me take off one more day a week to play guitar but he said no, saying he preferred I work even more in the kitchen rather than less. I quit the cooking job and began searching for playing gigs anywhere I could find them.
Boy returns home, now a young man, jazz guitarist & promoter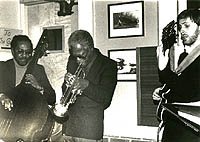 While in Amherst, Massachusetts I founded a Jazz Society and, obtaining the support of both local businesses and the Massachusetts Council of the Arts, I organized a jazz concert series program and an outdoor jazz festival (I played with Slide Hampton, Bill Hardman, Ed Jones & other top players). I was on a mission to promote the art form I loved, and I had the skills necessary to do so. The Director of the Fine Arts Center of the University of Massachusetts in Amherst, Dr. Frederick Tillis, once commented that I alone, in organizing the jazz festival, accomplished the work of his entire staff!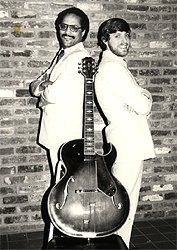 When my wife finished her Masters degree in 1984, we moved to my hometown of Cincinnati. We might have moved to New York then, but we thought Cincinnati would be easier and less scary (it wasn't). In Cincinnati, I got a job teaching guitar at a music school. The teaching wasn't satisfying because my students were either beginners or interested only in the latest Van Halen licks. More importantly, they weren't serious and didn't practice. I 'sat in' around town, playing for free anywhere, just to play. Eventually I got a steady gig as resident bandleader and booking agent at a club called Doc's Place, owned by a real doctor who loved jazz. I booked and played with some name players there (Herb Ellis, Jimmy Raney, Rusty Bryant, Junior Cook, Lanny Morgan, Bobby Watson, Jim Snidero, Mike Wolf, Othello Molineaux, etc…). I also hired and featured 'unknown' local groups, sometimes giving those who hadn't the opportunity to play for years, a chance to strut their stuff (I was by all means an 'equal opportunity employer'!). This was good experience as a steady working musician, promoter and agent. It would have seemed then that the 'jazz life' was there to stay, but it wasn't to be so.
The yuppie years, real estate mogul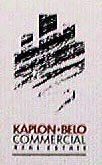 The excitement and diversity of New York City lured us out of Cincinnati (in case you don't know, Mark Twain said of Cincinnati that when the world comes to an end he hoped he was there, since everything happens 10 years late). We moved to Brooklyn, NY in 1986. I was disillusioned with playing music in bars, and living in New York brought out the materialistic aspect in me. I felt I had to support my family, which roughly translates into, 'I'm tired of my wife earning more money than me'!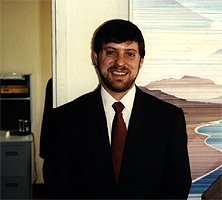 While living in Brooklyn I quit playing completely again, from1987-1992 (my longest hiatus from music). I went to school, got my brokers license, and began selling and leasing industrial real estate for a large firm called Kaplon-Belo. I still considered myself an artist (seemed to still think like one), but I didn't touch the guitar at all during this time. I earned a lot of money compared to playing guitar. I learned more about selling, setting a sales record for the company in my first year, experience which served me well when I became a music promoter again. I also enjoyed the human interaction and dynamics of working with such a diverse range of people making 'The Deal'. I became active serving the community when I was appointed to the local Community Board. I started a crusade against the garbage transfer stations scattered illegally throughout the neighborhood and tried to make the neighborhood more safe and clean. I was, by all outward appearances, a community-conscious 'yuppie'. But another major change was about to occur.
Carpel-tunnel syndrome

I was beginning to miss the creative expression of playing music, and began to doodle on my guitar when not working in the office. Eventually I was practicing more seriously for hours at a time, writing incredibly complex solo arrangements. They were brilliant, but then I noticed problems with my wrist. Perhaps what happened to me then is similar to what happens to someone who doesn't warm up before exercising. I was going too fast for my own good. I had carpel tunnel syndrome, a repetitive motion disease affecting the wrist. Twice I had to completely stop playing for two to three months, and for a year and a half I resisted an operation and fought the disease with occupational therapy. What little bit of playing I could manage, I did without the aid of a pick. I liked the sound and feel of playing with only my thumb. I vowed that if I were going to play at all, I would learn to play melodies with feeling and emotion. But it took years to gain fluidity of technique with the thumb, not to mention the confidence and physical strength to play again. That was to happen later, in Asia.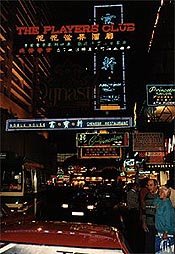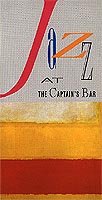 We moved to my wife's hometown of Hong Kong in 1992 in order for her to start a new job and be with her family again. It was there that I resumed my professional music career in earnest. I had by this time controlled my carpal tunnel by practicing Tai Chi, adequately warming-up and exercising. I began working solo, and as a sideman in trios and quartets for private parties. I jammed with the marvelous Filipino musicians whenever I could. My classical guitar training then came in very handy as I could earn good money doing that. I also played in a couple Broadway shows (including West Side Story), and did at least one concert with the Hong Kong Philharmonic. I became a bandleader and booking agent again in Hong Kong, playing and providing other entertainment for private clubs, restaurants and corporations. I recorded my first CD, "Everything I Love", and started an annual fortnight of jazz, and weekly jazz every Sunday night which continues to this day at the Mandarin Oriental, Hong Kong.
Singapore Swing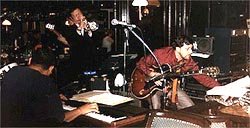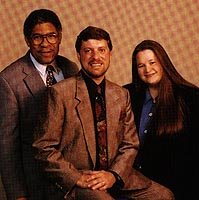 We moved to Singapore from Hong Kong in Aug. '94, once again for my wife's job. I incorporated a small entertainment co. and by April '95, was busy on the local music scene as a performing artist, bandleader, and entertainment organizer. My first steady gig was at the Pan Pacific Hotel with the famous Redd Holt. But by the end of that 3 month engagement (June '95), my wife of 13-14 years had left me, and we were divorced shortly thereafter. This sudden traumatic event triggered a year or so of 'soul searching' when I struggled to find myself again.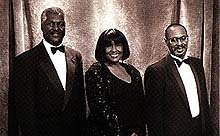 I have always been interested in spiritual matters, self-development, psychology, philosophy, the relation between mind-body, and spirit-physical. But now my interest was re-kindled anew as I read loads of good books on these subjects, trying to find some answers. Eventually I curtailed drinking and smoking, began exercising more, and changed my diet by practicing food combining. I began meditating and re-learning to enjoy time with myself. And, I delved into my own past, my parents, childhood and upbringing, to discover how all that related to my adult problems. It was a time of healing, a re-birth of sorts.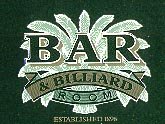 I was very tempted after my separation to return to New York in the fall of 1995, when I secured my current job at Raffles. It was that opportunity to play jazz every night which prompted me to stay on in Singapore. My booking and promoting began taking off again as I was the agent to bring to Singapore the Jean Du Shon trio from New York featuring bassist Victor Gaskin. By the end of 1995 I led a steady trio at Raffles Hotel, and in Nov-Dec '96 I released my 2nd CD called "Sudden Impact". It was produced in Singapore and features 4 of my own original compositions, and 5 latin-jazz tracks.
New inspiration, a bright future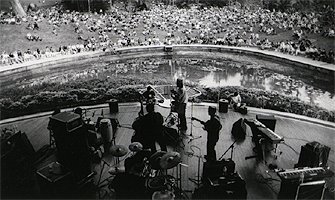 On Aug. 3 '97, I led a six piece band comprised of one Eurasian, one Filipino, one Malay, one Indian, one Black American, and myself (Greek American), in an outdoor jazz concert in the beautiful Botanic Garden. My 3rd CD, "Live at Raffles", was recorded just days later. Half of that CD is a vocal trio featuring the singing of my bassist Billy Martinez, (alias Frank "Sumatra"), but the other half is the union of my regular jazz group with the all-local percussion group called Tribal Tide (in total 7 pieces: four percussionists, one sax, bass & guitar).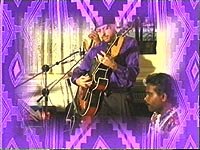 This new band format I have named 'World Beat'. Much of the outdoor concert as well as the live recording mentioned above was video-taped on beta to be included as part of a documentary film release and music video. The music video part has the 7 piece band, 'World Beat' playing an original composition of mine called "Samba Sigh". The documentary portion is about my life as an American artist in Asia, describing the positive and negative aspects of being an artist here, why one would choose the profession, the challenge of earning a living from it, the multi-cultural aspects and in general, the state of the art scene in Asia.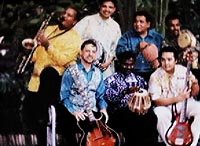 The experience of working with so many drummers of such varied ethnic background has inspired me to write music for World Beat, featuring the various percussion instruments and styles of Africa, Cuba, Brazil, India, and Asia, fused with American Jazz. My goal for mid to late '98, is to compose an entire CD (the 4th) of all original music expressing in my own way the varied cultural influences of Asia/Singapore, and the personal spiritual development I have achieved during my 6 years in Asia.
I can honestly say that my most valuable training as a player, (and as a person), was achieved during my last 6 years in Asia. It is where I have worked the most as a performer (learning on the bandstand), where my recording career began, and where I learned the most about myself.
Integration
In 2000 I released "Integration", my first cd containing all original material, and in 2001, "Integration II", its partner. These I consider to be the proud culmination and 'integration' of all my musical and personal development after almost 7 years in Singapore and almost 10 years in Asia. The reviews were outstanding. In 2000, I also got married for the second time to the perfect wife, Takako Saito, and had a wonderful celebration (on July 29th, 2000) at the Raffles Bar and Billiard Room where I had been playing for years. Our so called 'spiritual' wedding was performed by her Holiness Amritanandamaya, Holy Mother of Heavenly Bliss, early morning April 4th, 2000, in an Indian temple. After the formal wedding by the Singapore government on Aug. 1st, 2000, we took a wonderful honeymoon in New Caledonia and Australia, scuba diving the Coral Sea and Ribbon Reefs there. It was during this holiday that much of the material for Integration II was composed.
Upon our return to Singapore my 10 piece band headlined for the American Associations' Jazz at Night in the park, and it was a very happy and successful time. One of my more notable 'corporate' achievements was to organize all the entertainment for Peter Knipps World Gourmet Food Summit two years in a row, a very prestigious event.
But in the years leading up to the terrorist attack of Sept. 11th, the economy had taken a downturn and the music business had been becoming tougher and tougher. By the way, on the day of the Sept. 11th attack Takako and I were scuba diving at Puerto Gualera in the Philippines. That was to be my last scuba diving trip for a long, long time (to the present in fact!). Within weeks after the Sept. 11th terrorist attack I lost a few major contracts, and most parties were being cancelled. The annual Navy Ball which I had been organizing for 3 years in a row was particularly somber that year.
Then, only a few months later I received a fax! The fax was from Skefke Jenson, one of the Food and Beverage Managers of Raffles Hotel. I was being not renewed, let go, fired, by fax, after 7 years of loyal and successful service to Raffles. I wondered why nobody in that so called revered establishment had the decency to call, but such is life in the F & B business. That steady nightly gig being severed, I went across the street to join the band at Somersets. I had been booking that room for a couple years, and it had become very good, with great singers like Alice Day and Coco York. I joined the quintet I had put together with pianist Michael Stanton and singer Coco York. During the same period I traveled to Kuala Lumpar, the capital of Malaysia, to play the Heineken Jazz Festival and do a couple nights at one of the small jazz clubs there. These gigs were to be my swan song to that region so to speak.
Stars and Sars, Shanghaid'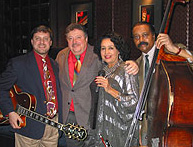 By this time the Westin Hotels' lease had expired and Raffles International had taken over those two Singapore hotel properties. Some of the former management of the Westin were now in Shanghai preparing to open their new 5 star hotel in Shanghai. They asked me to organize their band and I did. I went there in Sept. 2002 and performed in their "Niche Bar" until SARS shut us down in June of 2003. I was playing with Donald Jackson on bass, Jack Holland on piano, and Dee Dee McNeil singing. We were the 'talk of the town', and were dubbed by the local press "the best jazz band in all of China". I dare say it may have been true. I had superlative musicians surrounding me, and we were becoming stars there. But, the SARS scare and China government warnings to stay home emptied the bar over one weekend, and the hotel had no choice but to reluctantly let us go, and my wife and I headed for Japan in June of 2003.
Japan Jazz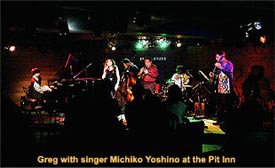 Only weeks after our arrival in Japan my wife was diagnosed with late stage cancer. She lasted another one year +, but on July 29th 2004, EXACTLY 4 years to the day after our wedding celebration at Raffles, she died. Then on Aug 1st 2004, EXACTLY 4 years to the day after our formal government wedding in Singapore, she was cremated in a traditional Bhuddist ceremony. I wrote at length about this ceremony and have included the story on this site. I hope you will take the time to read it. English / Japanese
This time in Japan, dealing with my wife's cancer and trying to survive despite it, has been the biggest challenge of my life, and by far, the biggest sadness. Now I look forward to making the best of the situation, and this website update is but a start.
The newest musical development for me in Japan is that I have finished a new CD, my 6th to date, and my first official release in Japan, called "Where We Find Ourselves". The background story of the CD can be found here.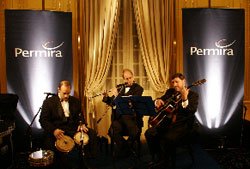 I have formed a new group called "Bossa Nouveau", a duo or trio of flute, classical guitar, and hand held percussion. It features, and is managed by two of the finest musicians I know, Andy Bevan on flute, and Mark DeRose on percussion. Our first formal gig will be at the French Chateau, "Joel Robuchon", the award winning French restaurant in Ebisu Garden Place. We will be entertaining the European financial group, "Permira", with authentic Bossa Nova!
Other interests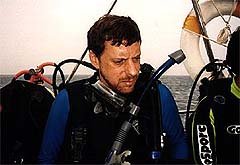 I once read an article on the music business, and Dave Liebman was quoted as saying he spends the majority of his time arranging for gigs, rather than actually playing. I think he's right, a lot of time is spent making phone calls, going over contracts, invoicing/billing, etc… Because I have my own agency and produce my own recordings, the office work is even worse. Most relatively unknown musicians need to get involved in the 'behind the scenes' work of promoting and marketing if they want to improve their exposure. All that daytime work does make improvising guitar at night all the more enjoyable.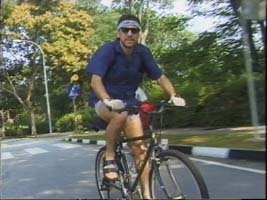 As far as recreation and my other interests are concerned, I love the outdoors and nature in general. I am a PADI Rescue Scuba diver, and love the sport. I may continue my training to increase my certification level. It's a great way to 'unwind' and appreciate nature as well. I've also taken up swimming. I enjoy riding my bicycle around the parks and beaches of Singapore, and sometimes hike through the Nature Preserve (Singapore is one of two cities in the entire world with a tropical rain forest within city limits). I still love food and cooking, though I don't cook much anymore due to my schedule. A good meal with wine and conversation is a favorite of mine.
I have been involved in organizing support groups for Hoffman Process Graduates, and Adult Children Of Alcoholics. I have a business partner who specializes in 'stress management' by portable chair massage. I'm interested in the 'healing arts', counseling and psychology. I have practiced Tai-Chi, meditation, and yoga. I am pro-environment and pro-business at the same time.
I like to read and learn from books. Of course, I appreciate art, whether it's writing, painting, whatever. I don't care for bureaucracy, or dogma. I avoid waiting in lines and usually don't like crowds. I love a lively conversation, and enjoy listening to people who are passionate about what they're speaking of.
What's in a name?
I am often asked about the name Chako and it's origins. What better place than through the Internet to explain? Here goes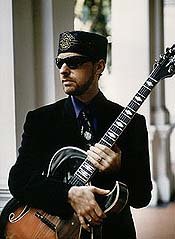 My Grandfather was a Greek from the island of Corfu. His name was Paraskevas. But he was living in Istanbul, Turkey. When the Turks wanted to draft him in their army he immigrated to the USA. In order to get out of the country incognito, he borrowed the name of a cousin, Chapopoulo. But when he arrived in New York, he told the immigration officer there his borrowed name rather than he real name, so both my father and I were born Chapopoulo. When my mother re-married I used the name of my stepfather, Jennings, while in high school. So although the formal school records had Chapopoulo, my friends knew me as Jennings!
Meanwhile, my ex-wife's family were Chinese living in Indonesia. Just like the Turks and Greeks, the Indonesians and Chinese have had a strained political relationship. The Indonesian government strongly suggested that ethnic Chinese living there take on an Indonesian name. Their Chinese name was Khouw (pronounced Ko), the name they changed to was Komala. So when I met her she was Komala. Her name was further complicated by the fact that she grew up in Cantonese speaking Hong Kong, but her father spoke only Mandarin, and she was encouraged to speak English, etc…(it gets worse!)
When we married we solved our confusing background as far as family name, by combining the first syllables of our last names and creating a new name. The (Cha) from Chapopoulo and the (Ko) from Komala become Chako. Voila!