Ohio (USA)
Having lived in the Far East for almost 20 years, I grew weary of being a foreigner and imagined returning to the USA to teach music at the college level. In 2009, I came to the New Jersey/New York area to attend a Master of Music program, and after a short summer return to Japan for gigs in 2010, I made the final move back to the states, ending up in Rochester, NY to attend The Eastman School of Music Doctor of Musical Arts (DMA) program. While in Rochester, I taught privately and performed occasionally with excellent and well-known accompanists Bobby Blandino on drums and Fred Stone on bass. Besides playing jazz gigs, I also booked events at prestigious venues such as the Genesee Valley Club and the Monroe Golf Club.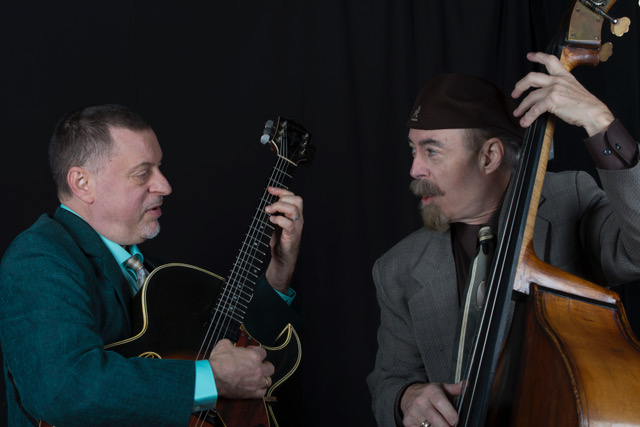 My move back to my hometown of Cincinnati, Ohio so that I could be closer to my Mom after SO many years of my living abroad occurred in 2017. As soon as possible, I began playing with the very best of the local-based musicians, some of whom I'd played with 20 years prior when I was the jazz music programmer at Doc's Place in N. College Hill.
My first notable (re)association was with bassist, Michael Sharfe. I had written some music specifically made for guitar-bass duet, and once we began playing together regularly, I wrote additional material (11 songs in all) and together we agreed on a CD concept titled: "Bass First - Chamber Jazz Duets," because the music resembled classical chamber music in which the bass played either the lead melody or a counter-melody with guitar in a Bach-like '2-part invention' style. (insert 2 or 3 photos here) We had only one live show, and here are two amateur live recordings of two of those 11 compositions: "Bach to Bass" & "Bass Valtz."
My next project was called, "Greg Chako & Unity," featuring almost exclusively original compositions and a stellar list of bandmates: Michael Sharfe on bass; Jim Leslie on drums; and Sandy Suskind on flute & alto sax. Here is that group performing one of my originals, Where We Find Ourselves -
Another notable performance was our showcase at the JazzArtsFoundation library concert series in Lexington , KY
In 2018 & 2019, I wrote a lot of original music for specific 'concept' bands. Besides composing for the "Bass First" duet, I also wrote and arranged 11 songs for 2-guitars and rhythm section, called "Swingin' Axes." The bulk of that material is featured in this short movie tribute: Swingin' Axes -
One of my favorite self-led groups is called "Greg Chako's 'Organ-ized Trio' plus special guest, Brooks Giles." That group features my re-association with Wayne Yeager on Keyboard, whom I played with weekly back in the mid 1980's with his Hammond B-3 w/Leslie; Vocalist and Sax man Brooks Giles, whom I became friends with 20-some years ago when we were playing in the Far East, and Master drummer Melvin Broach. here's one of performances in Cincinnati: I've Never Been in Love Before -
I've written 9 original songs especially for this particular group.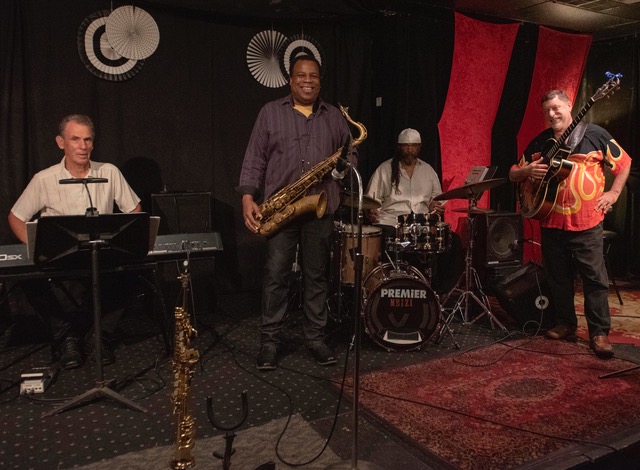 I am also an integral member of the Brooks Giles Group, jazz-fusion quintet that plays a little of everything, including Giles' original songs. We've had 2 feature night performances at the Ft. Harrod Jazz Festival in KY and have made numerous highly successful appearances at Jimmy Can't Dance in Louisville, KY. Here's an exciting excerpt from one of these live shows, Everyday I Have the Blues
I led a steady jazz gig at Johnny's Italian Steakhouse before Covid shut everything down in March of 2020. My trio was hired to perform at prestigious events such as the John Ruthven Dinner at Union Terminal, and for special events at The Camargo Club in Indian Hill; The Cincinnati Art Museum; in addition to making repeated appearances at popular local music venues such as Cafe Vivace; The Washington Platform; The Symphony Hotel; The Greenwhich; The Somm Wine Bar, etc.
I've also worked as a sideman with the late, great vocal stylist, Gail Wynters; legendary jazz drummer Philip Paul; pianist/singer Pat Kelly; the Fred Price Trio w/Steve Bruce on bass; Singer Elaina McCormick; The Street of Dreams Trio, (insert flyer here) and others throughout the Great Cincinnati area, and I have commuted multiple times to perform and teach workshops back in Rochester, NY.
Hot food & Jazz at the Greenwich flyer
I am currently teaching music privately, for The Oxford Music Academy, The Sharp Music School, and Guitar Center. I am also booking private events and working with a new trio featuring Matt Holt on bass and Isaiah Cook on drums. Some of my VIP private clients in Cincinnati say:
"Greg Chako is a gem in the Cincinnati music world. When planning a small dinner party or a large community event, I have had the pleasure of calling on Greg and his musicians to perform just the right music for the appropriate occasion. Greg's gentlemanly professionalism extends from promptly booking the dates to outstanding performances to extremely reasonable rates. I highly endorse Greg Chakos' music and proudly consider him my friend." - Lee & Shannon Carter "
During this year of COVID our daughter's wedding was carefully planned. An essential part of the afternoon was to have Greg 's guitar/drums/bass band take us away to a safer time. With safe distancing and masks in place the band's jazz classics were mixed with pleasing interpretations of more contemporary jazz. With windows opened in the house as guests listened around the yard/house even the neighbors commented on the great sound. Greg's guitar aficionado talent had toes tapping and hearts happy. His well-crafted harmonies were a joy to hear. Even the bride and groom from a younger generation were swinging to the tunes. We would recommend Greg and his fellow musicians for any occasion. The flexibility to wrap his music talent around an occasion was so appreciated." - Barb and Bob Feth-Holland
"Greg Chako played guitar for an event I chaired for St. Xavier Church in downtown Cincinnati. This very important bicentennial event centered on an afternoon of art – artists working "live" in the church – as musicians played non-religious-oriented music selections as a beautiful background for the unique event. Greg's jazz guitar performance was a wonderful highlight to the afternoon. Greg's smooth sound and wide variety of music choices was well received and made this a day to remember! He is truly a talented professional - not only talented but also professional, experienced, timely and "on point" with what I requested. His performance was excellent, and I would (and have) recommend him for any event, large or small." - B Gary Kramig