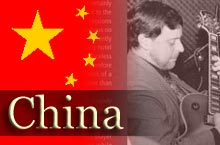 By 2002 after economic downturns and Sept. 11th, business had fallen off in Singapore. Plus, I had been there for 7 years and had accomplished just about everything I could accomplish. In 2001 Raffles International took over the Westin Hotels' lease in Singapore. I continued to work for both companies during the hand over. But some of the Westin management I had been working for in Singapore had moved to Shanghai, China to open a brand new 5-star Westin there. They asked me to arrange a jazz band to perform in their new Niche Bar and I accepted. In Sept. of 2002 I moved to Shanghai and we opened that hotel to swinging sounds. Within months our band was the "Talk of the Town" as one magazine put it. The Hotel intended to extend us for a year until SARS came. Over one dreadful weekend, the booming bar cliental diminished to nothing. Regretfully, we were forced to move on. Here are some comments from that pre-SARS period:
Guest and press feedback in print: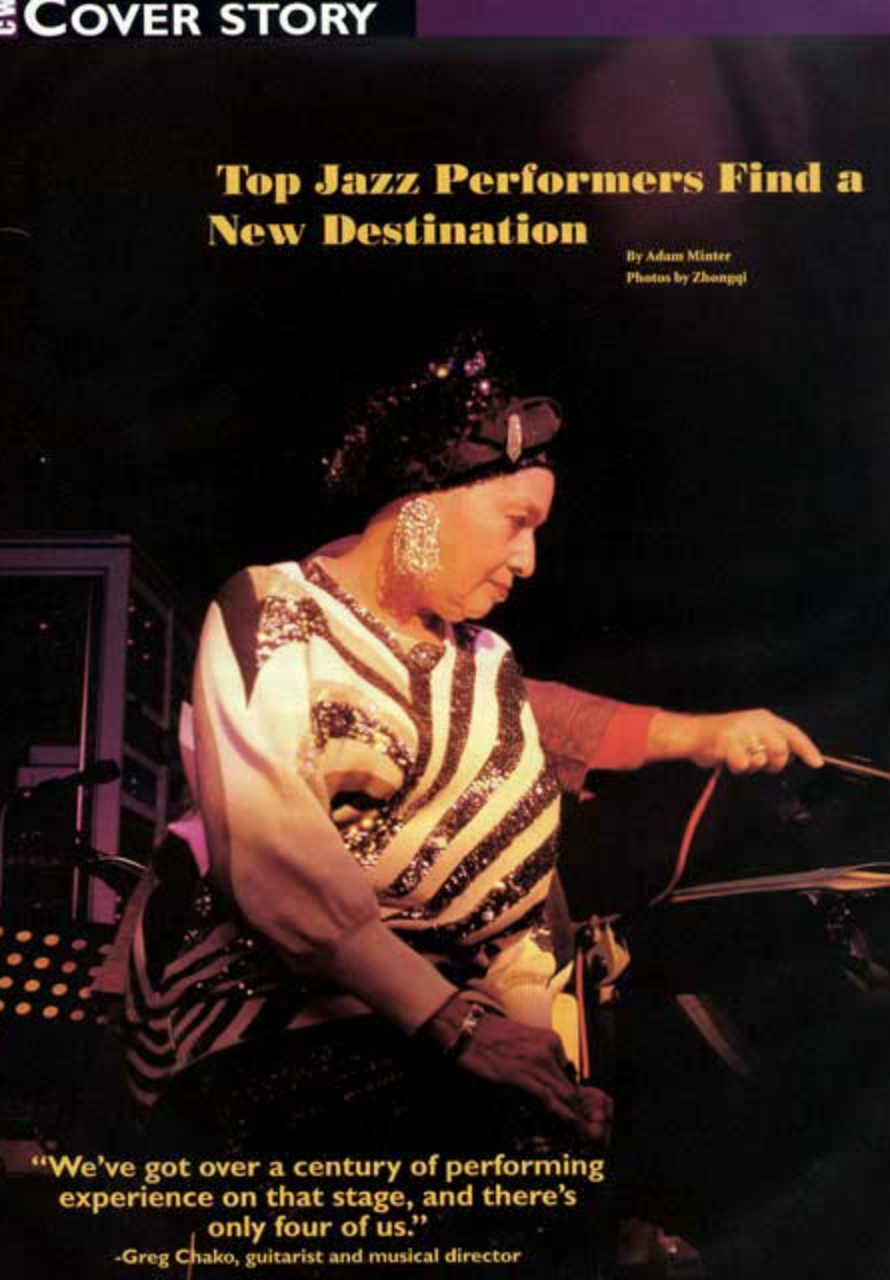 " ...The Niche Bar hosts what may be the finest jazz act ever to play in the PRC... Fantastic, Top of the Line, Incomparable..." - City Weekend guide, cover story Jan/Feb '03, 'Top Jazz Performers Find New Destination'
" ...jazz at it's best: immediate, transcendent, and above all indescribable... played with a virtuosity that is completely new to Shanghai's music scene... the Westin's most telling accomplishment has been installing musicians of international stature in its Niche Bar ... a surprising rhythmic vitality... swinging the song in a completely new fashion... something remarkable..." - Voyage, Jan '03, 'Niche Players'
" ...A chilled atmosphere generated by soft lighting and comfortable yet chic decor, means the New York Jazz Ensemble can concentrate on getting the music perfect ...they pla things that fit the room ...with talent like ace-on-the-bass Donald Jackson, skillful pianist Jack Holland, engaging vocalist Dee Dee McNeil, and guitar virtuoso band leader Greg Chako, the music is of the highest possible quality... whether you prefer to chat and feel the vibe, or sit eyes closed letting the music carry you, it's a date that should be in every diary... - Shanghai Star, Profile, Feb. 20-26th, 2003
" ...Greg and his group are second to none in China. They are truly ambassadors to their profession coupled with their charismatic approach for ensuring their guests receive the best of personalized attention. Led by Greg, the group's interactive style and intense passion for jazz are undeniably compelling and terrifically rewarding. They are inviting testimonials for illuminating and spreading the popularity of Western style jazz to the borders of China while providing an oasis of relaxation..." - a formal letter of compliment by repeat Niche guests represented by G. Timothy Erwin, Vice President and General Manager, Crane Pump Systems Inc. Jan. 29th, '03.
" ...a rare combination of crowd-pleasing jazz that also feels original and vital... the format perfectly fits the acoustics and vibe of the Niche Bar..." - Shanghai Talk, March '03, 'Chako Checks In' about gregs' cd's: "...one of the best jazz albums ever produced in Asia... his original compositions go a long way to hitting that nirvanic goal of a natural merging of Western and Asian music... - Shanghai Talk, March '03, 'Chako Checks In'
Informal feedback to Greg by guests:
" ...there's such a nice relaxed vibe in the room... it's more like a concert or show, rather than the typical hotel lounge music..." - jazz singer Alexia Gardner & family, Mar 1st.
" ...I think it's the best jazz room in Shanghai..." - Marcus Benz, Alexia's husband
" ...you guys are very good and really professional... without your band this bar would be little better than a waiting area, and you play the perfect music for this place..." - German businessman Feb. 25th
" ... nice bar, great music, good people, what more could you ask for? & ...you guys sound better every time i come back..." - Ken Southerland, of Modus Media International, a repeat customer, 28th Feb
Mr. and Mrs. Goran Anderson, Financial Controller, Alfa Laval China Ltd. found the music great and the bar very comfortable. late Feb '03
Press Clippings