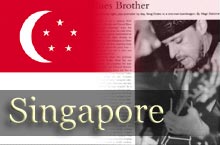 Moving to Singapore from HK in 1994, and having just released my first CD, I was most anxious to continue playing jazz professionally. But, I had only the right of abode there and no valid employment pass. I met the Singapore branch accountant of a music company that I had worked for in HK, and he suggested I incorporate my own company in Singapore, thereby obtaining an employment pass as Managing Director of my own entertainment company. I had no idea then how successful the company would become. Within a few years the company was making more than I was as a player! But it was a slow start, taking about 6 months for me to get a steady playing job, my primary goal.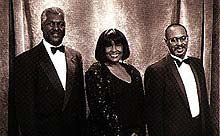 In March of 1994, I became the bandleader of The Greg Chako Trio at the Pan Pacific Hotel, featuring the famous Redd Holt (from the Ramsey Lewis Trio), and also played there with The Jean DuShon Trio from New York, featuring the famous bassist Victor Gaskin.
In 1995, I joined the world famous Raffles Hotel where I led a steady jazz group for over six years ( see letter). Occasionally musicians visiting Singapore came to Raffles to play with my trio, for example, Akira Jimbo from Caseopia, jazz singer Carol Kidd from the UK, sax man Gordan Brisker from the USA, and a host of guitar players and others.The atmosphere on that steady gig was always very fun and relaxed, a players' dream (and mine) come true!
I recorded four CD's and six videos in Singapore, was the subject of a documentary movie, appeared on television, and at jazz festivals with "World Beat" and "Integration", 7-10 piece world-latin-jazz-fusion bands. My company boasted a most prestigious list of regular clients.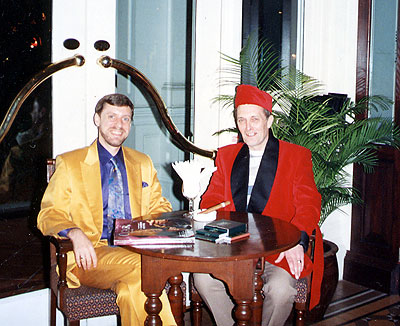 Featured performances:
Chi-Jazz Festival 2 years
Headliner, Band leader of "World Beat" 7 piece latin-jazz group (live video recording)
Chijmes
Agent for the entire series and Band leader of the Greg Chako Quintet
Heineken Jazz Festival
Headliner, Band leader of "Integration" 7 piece world-jazz group in Kuala Lumpur
Band leader of the Greg Chako Quintet, Singapore
American Associations' "Jazz in the Park" @ Fort Canning Park
Headliner, Band leader of "Integration" 10 piece world-jazz group
Ministry of the Arts' "Jazz in the Park" @ The Botanic Gardens
For 2 years Headliner, Band leader of "World Beat" 7 piece latin-jazz group
World Gourmet Food Summit 2001/2002
For 2 years, Organizer of all entertainment for all premier events
Band leader of "World Beat" 7 piece latin-jazz group
Band leader of the Greg Chako Quintet
Raffles Hotel Bar and Billiard Room
Agent for Max Surin Band, April '95 -July '95
Band leader of The Greg Chako Trio July '95 to Dec. 2000 (live CD/video recording 1998)
Band leader of 6 piece B/p Latin/Dance Band Jan. - Dec. 2001
Band leader of The New York Jazz Ensemble Jan. - June 2002 (live studio video recording 2002)
Somersets Bar
Agent for Alice Day Quartet March -June 2002
Band leader for Coco York "On the Silk Road" quintet June - Aug. 2002 (live video recording 2002)
Harry's Bar, Boat Quay
Band leader of jazz trio on Monday nights Sept.-Dec.'94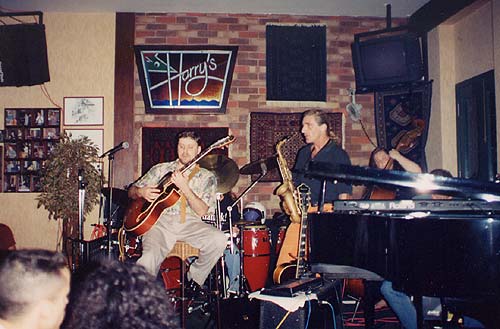 Pan Pacific Hotel
Band leader, Greg Chako trio featuring Redd Holt and Belinda Moody, April '95-June'95.
Agent/player for Jean Du Shon trio with Victor Gaskin from New York, July'95- Oct.'95
Hyatt Regency
Featured classical guitarist for daily 'high tea' April '95-June '95
Four Seasons Hotel
Featured classical guitarist for 'high tea' June '96 to 1998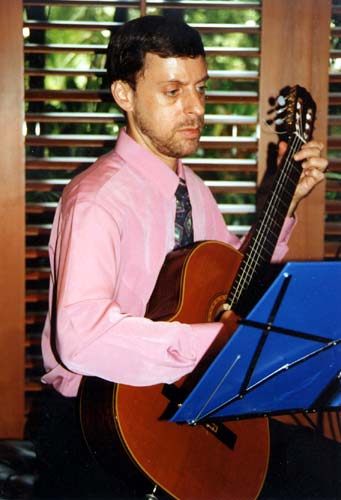 Sunday Brunch Jazz Quartet - co leader
Ritz-Carlton Hotel
Featured classical guitarist for 'VIP' Executive lounge March 2000 to Oct. 2001
Fullerton Hotel
Leader Sunday Brunch Latin Jazz Quintet
Agent for the hotel for 2 years
US Navy Ball
"Played and arranged all the musical
entertainment for the US Navy Ball three years in a row, to rave reviews."
American Club
Agent for the club for two+ years (see letters)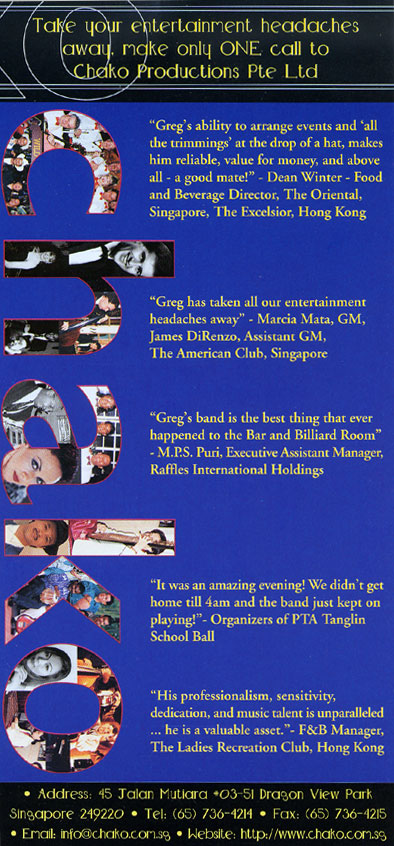 Band Leader of the Sunday Brunch Greg
Chako Quartet featuring Christy Smith, Michael Stanton, Darryl Ervin
Band Leader of The Greg Chako Swingtet featuring The Jitterbugs
Swingapore Dancers
Including, but not limited to: live performances with large and small groups for the PSA Afternoon Concert Series, various Singapore Government Agencies, TCS (Television Corporation of Singapore), Raffles City Convention Center Concert Series, Centerpoint Properties Concert Series, Park Mall Concert Series, Singapore Airlines, Citibank, Compaq Computers, Visa International, Coca-Cola, CNN, Optis Communications, concerts for former American Ambassador Steven Green, Tony and Melanie Chew, The Zeiglers, The Presidents Club, Alkaff Mansion, Singapore Recreation Club, British Club, Tanglin Club, Swiss Club, American Club, PTA Tanglin School Ball, Westin Hotel, Oriental, Mandarin Hotel, Shangri-La, Grand Hyatt, Sentosa Beaufort Hotel, and many more...
Press Clippings