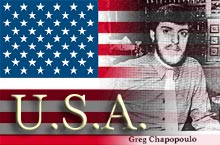 Performer, promoter, and booking agent for jazz festivals, clubs and concerts in New England, New York and Cincinnati, Ohio, including appearances with leading jazz artists. Notable programs and appearances include:
Pioneer Valley Jazz Festival, Amherst MA - Organizer, promoter, & player, featuring trombonist Slide Hampton, trumpeter Ray Copeland, and the University of Massachusetts All-Stars
Amherst's New Society - "While most musicians would be happy to settle for a steady gig...
"Jazz Extravaganza" in the Garden of the Lord Jeff, featuring virtuoso Slide Hampton and outstanding area musicians. Chapopoulo anchored the program with his trio, backing up appearances by Dr. Jazz Copeland, vocalist Lynne Meryl, and the natty and amiable Hampton... impressive, energetic, well focused, polished, and enjoyable."
Bright Moments Jazz Festival, University of Massachusetts Jazzmobile Program - Teaching assistant for the Jazzmobile Workshops, and player in the warm up band for the Billy Taylor All-Stars Concert the week - "Jazz concert dazzles crowd"
Lord Jeffrey Inn Jazz Concert Series, MA - Organizer, promoter and performer, featuring Bill Hardman (Muse recording artist), Avery Sharpe (from McCoy Tyner's band). Charles "Majeed" Greenlee (from Dizzy Gillespie) and Ed Jones (from Count Basie)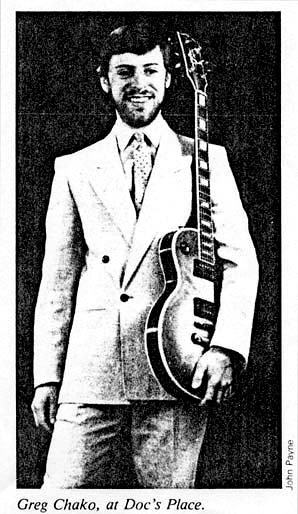 On the Scene, "The Lord Jeffery Inn" - "Solos that revealed the unprecedented talents of each musician in the group kept toes tapping and bodies swaying.
"Honing their Chops on Jazz" - "...unstructured and spontaneous, yet still intimate jazz... This is an up and coming pair - they're musicians to watch!"
"Greg Chapopoulo" - The jazz ensembles music is vibrant. "The focus of our music is improvisation - improvisation that swings!"
Founder and past president of the Pioneer Valley Jazz Society
Grant recipient: Massachusetts Council of the Arts
Writer, promoter, fund raiser
Doc's Place Concert Series organizer, booking agent and performer featuring Junior Cook, Lannie Morgan, Othello Molineaux, Bobby Watson, Johnny Lytle, Jim Snidero, Jimmy Raney, Herb Ellis, Cal Collins.
Awards and Affiliations:
American Federation of Jazz Societies, American Federation of Jazz Educators, ASCAP (American Society of Composers, Authors, and Publishers)
Grant Recipient - Massachusetts Council of the Arts and Humanities
2nd Place award - American Guild of Music Competition
1st Place award (2 consecutive years) - Hoffman Music School Guitar Competition, Cincinnati, Ohio
Founder and past president - Pioneer Jazz Society, Amherst Massachusetts
Cincinnati Federation of Musicians #1 AFM Ohio, Northampton Federation of Musicians Local #220 AFM Massachusetts
Hartford Jazz Society, Connecticut
Press Clippings